Hi everyone,
On holiday in Florida. A Web site customer had told me about an amazing collection of Chalet down here. So of course it needed to be checked out - well, even if nothing else goes right on a trip that already is hitting a 10 - this was a trip highlight.
There were 67 pieces in the grouping and every single one was signed. About 10 of the collection were common - the rest rare, with a few pieces I have never seen before.
Some of the collection highlights: there were 2 of the divided olive green/blue 2 tones (one was a vase shape I had never seen), 3 amethyst pieces - one a huge jagged 'fingertip vase" that was absolutely incredible and another a very large Eaton's style basket with the third being a really lovely crossed fingers, a massive amber jagged fingertip and a really great, very large and rare amber basket, a piece that was a hybrid between a splash style vase and a long-arm stretch, quite a few (5) blue/green 2 tones, a massive crystal and cranberry fazoletto vase and wait ............ a 3 tone amber, green and blue "forato" ashtray.
It was a stunning collection and I really enjoyed seeing it! Got hubby to take some phone pics: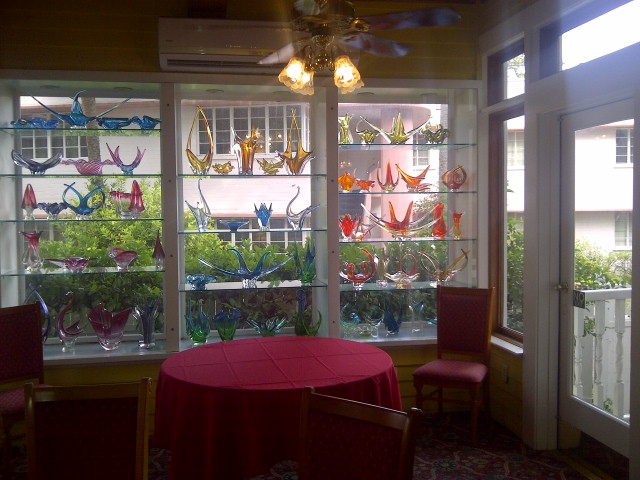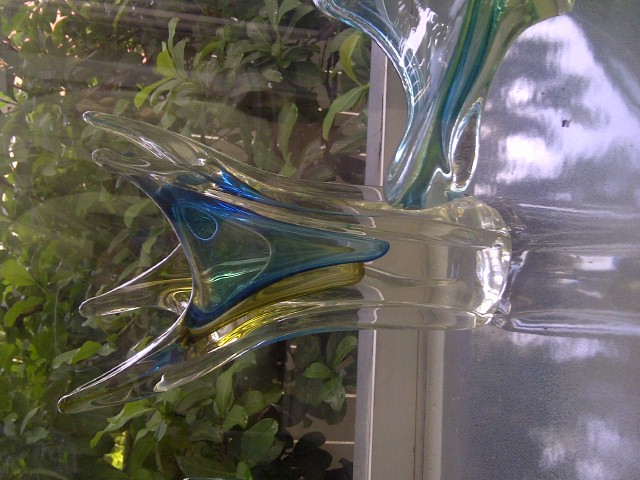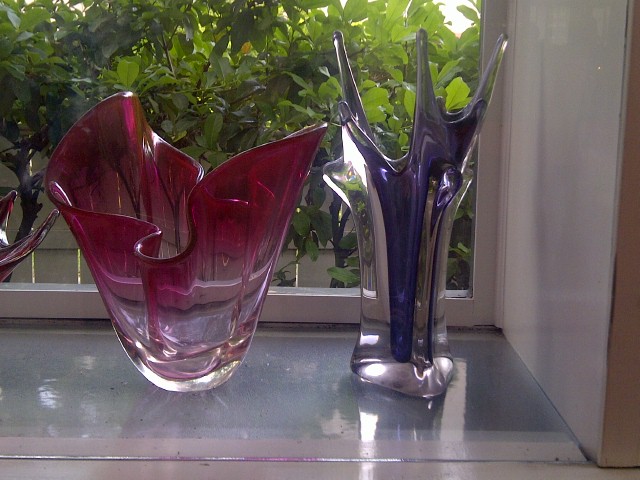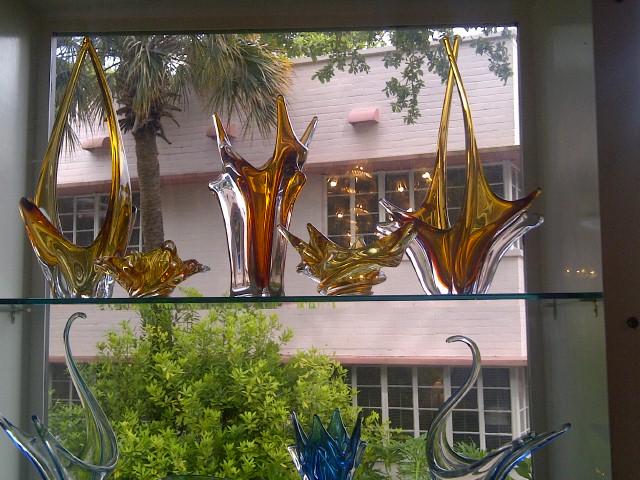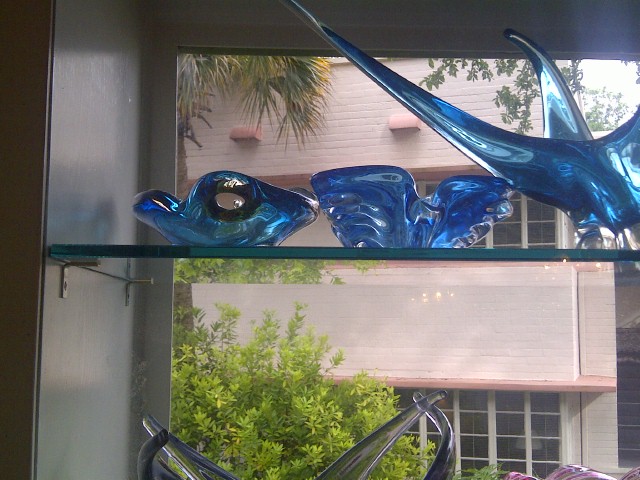 Deborah
Last edited by deborah on Tue Jun 04, 2013 3:54 pm; edited 3 times in total (Reason for editing : added pictues)

deborah

Admin




Posts

: 654


Join date

: 2010-08-19



Gorgeous glass and beautifully displayed.

If your luggage is clinking going through customs on the way back, just say it is booze. It will be easier to explain.

Enjoy your vacation.
Last edited by cbrunett on Wed May 22, 2013 12:57 pm; edited 1 time in total

cbrunett




Posts

: 29


Join date

: 2012-01-27



Hey,
I would love to repatriate but do not think that's going to happen! Missed posting this one. It is really interesting - I think a hybrid between a splash vase and long-arm stretch. Just a gorgeous piece.

Well- off to Segway! Tomorrow back to the parks.
Deborah

deborah

Admin




Posts

: 654


Join date

: 2010-08-19




That purple splash vase is gorgeous - I love purple and I love that shape, can't believe he got both in one piece!




chaletcollector




Posts

: 49


Join date

: 2012-04-18



Hi there,

The guy that collected these pieces died about 5 years ago and it was just the catering company that was there yesterday - none of the family members. However, I did get their contact info and will get in touch as would l love to hear how he heard about Chalet from there and how he got these rare pieces. Might be a cool story. Will add more info if I get it.

Deborah
Last edited by deborah on Tue Jun 04, 2013 3:55 pm; edited 2 times in total

deborah

Admin




Posts

: 654


Join date

: 2010-08-19



Wow! What a nice display. Very nice pieces! Huge pieces as well.

Pierre-D




Posts

: 55


Join date

: 2012-08-01



Hi everyone,

I sent an e-mail to the family about the collection to see if I could find out more about the collector - specifically how he got these pieces. Here's the answer I received:

" Hi Deborah,

The owner of the Inn, Charles, whom passed away a few years ago was quite the collector. I'm the GM at the Inn and helped Charles purchase many of his nicest pieces over the years. I'd say he probably had over 300 pieces of Chalet in his collection. All various shapes, sizes, and colors. The Chalet you saw are the only pieces on display. The rest of it is in our storage spaces boxed up.

Surprisingly, he obtained most of his pieces via eBay over the years.. Here's a funny story about him:

Every day Charles would go on eBay to look at Chalet pieces up for auction. I being the curious type, would stand nearby and watch him scroll through the pages of listings. I'll never forget Charles telling me in his Southern drawl "Always make sure your Chalet pieces are signed. The unsigned ones just aren't worth anything." he would proclaim.

Over the years I got to be a good student at picking out the best, most desirable pieces. Having seen Charles' extensive collection, there wasn't too many on eBay that I had not seen before. But every so often, that one special piece would pop up. Perhaps a rare color, unusual shape, or something neither of us had ever seen. When these popped up, I knew Charles just had to have it. Around this time Charles was in his mid 70's and didn't really like to navigate or bid much on auctions so he gave me the task of pulling up the site and basically scrolling the listings for him. Paying and confirming pieces arrived safe and sound. When that exceptional piece would pop up that grabbed his attention, he would tell me "Ok, let's bid on that piece but my limit is $60 on that one." Not but a day later when the bidding had gone WAY past his mark did Charles inform me to up the bid to a higher number. While at the Inn, Charles would call down to the front desk and ask me what the bid was up to and if he was still the high bidder. Reluctantly, I told him he had been outbid. Charles, of course, wasn't having that and told me to "Keep bidding until he won the damn thing". This bidding war on Chalet with other collectors would go on for a couple of years. Like clockwork, he would always call within the 10 minute mark of the auctions end to see how much he would have to spend to get these rare pieces. And like almost every other auction, he would refuse to be outbid. I heard every expletive in the book coming from the old man's lips as the price of the auctions just kept going higher and higher. "I don't know why the hell I need another piece but it's too late to back out now....... Go to $200!" He would shout out. On far too many auctions that I care to remember, Charles would call down to me in the office and say "Alright, $150 is my final bid and if I call you back to raise the bid, don't pick up the phone!" I would watch the seconds tick off the eBay clock just waiting for the phone to ring and it always did with laughter at the other end. "Well, you knew I was going to call you back right? Don't you agree I need that piece in my collection?" Of course he did I thought.

Charles bid high and often. So much so that we had to come up with different eBay handles because we were seeing a trend that auctions that had not much interest at all would all of a sudden turn into a bidding war between familiar user names. I told him I suspected either sellers or disappointed buyers knew his handle or purchasing trends and knew if "Chalet Man" was bidding, there was no ceiling on price.

I would have to guess and say that Charles purchased 2-3 pieces of Chalet per week, every week for 6 months at the height of his interest. The last count we did was in the neighborhood of 300 pieces but he laughed that number off saying it was closer to 500 pieces he presumed. His collection definitely had some rare and special pieces in it.

David Messina
General Manager"

Amazing the reach Chalet has! Hopefully we can repatriate some of these pieces!

Deborah



deborah

Admin




Posts

: 654


Join date

: 2010-08-19



Hello Deborah,

This has been a very interesting thread. I do indeed hope that you are able to return some of this collection to its native land. A shame to hear so much of it languishing in boxes. Beautiful pieces and it certainly proves the point of Chalet's distribution and scope - most pointedly through e-bay. I too enjoy "hunting" on my travels and your experiences in Florida that you have posted here go to show that special piece could be anywhere.

Please keep us apprised of further developments with regard to this collection.

Will

treckers




Posts

: 15


Join date

: 2011-07-13




Similar topics
---
Permissions in this forum:
You
cannot
reply to topics in this forum