I have been out and about lately, browsing the flea markets and antiques shops in my area. I have found a few pieces but they are not marked. The pieces in the first picture, the back piece is marked Chalet so I think I can safely assume that the front piece is also Chalet. Can you help identify the other pieces.
Thanks,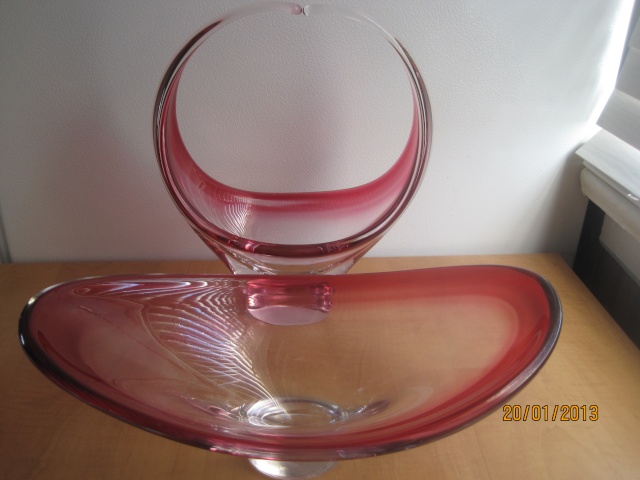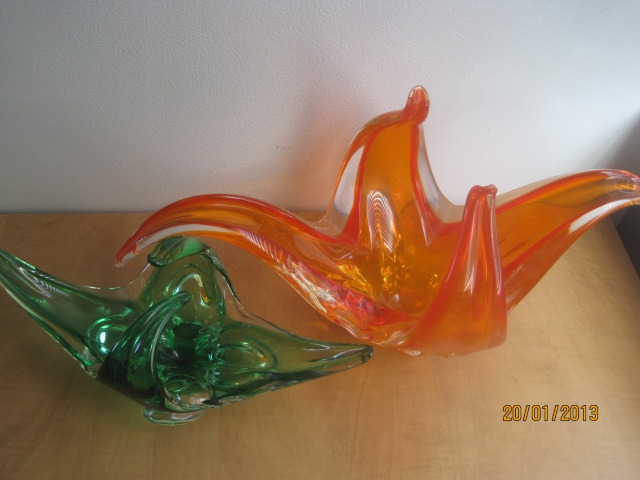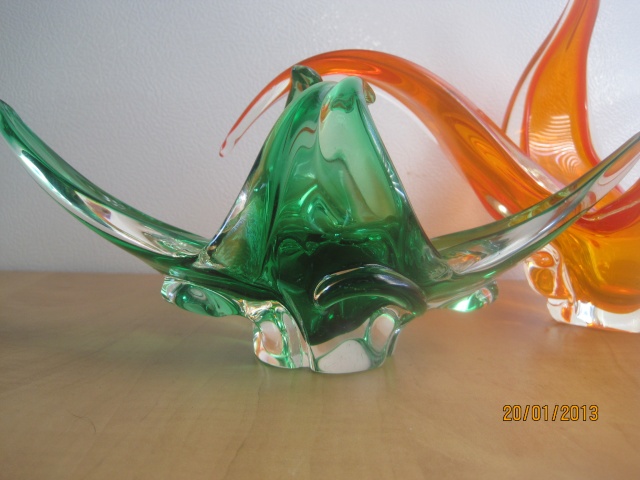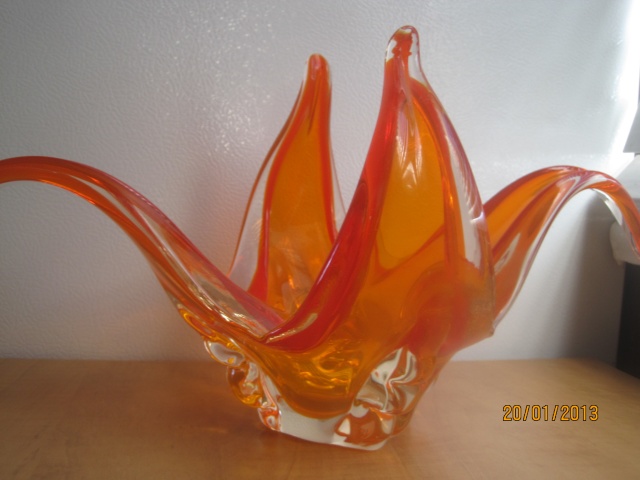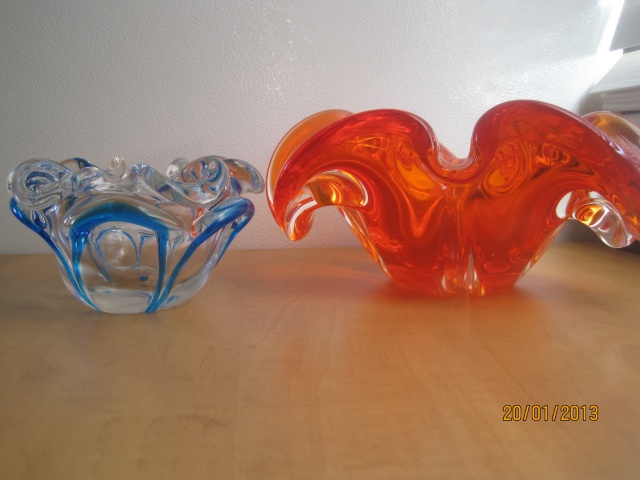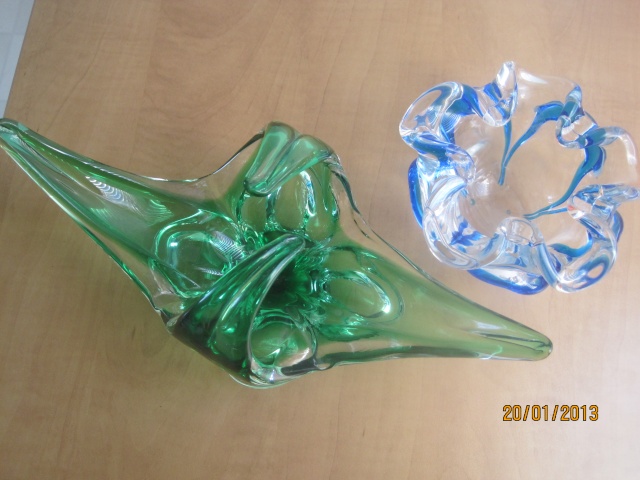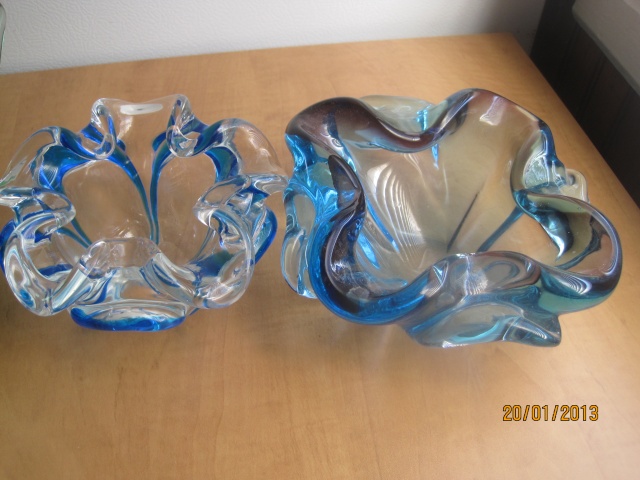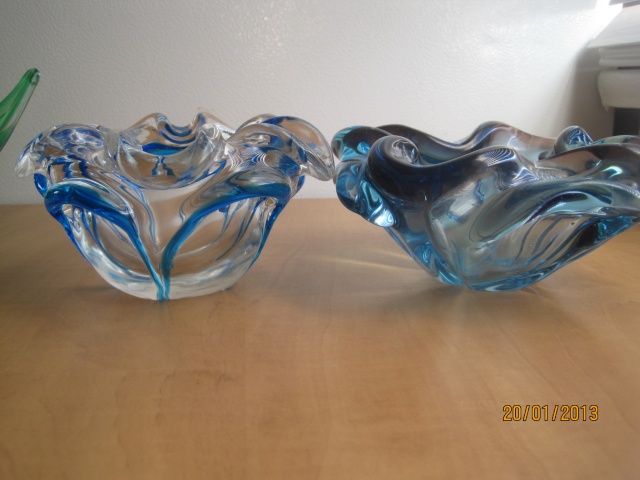 glassisclass




Posts

: 6


Join date

: 2012-06-10



They are all Loraine, maybe lol

Glassman




Posts

: 303


Join date

: 2010-08-20



Hi there,

Your cranberry and crystal pieces are Chalet - this was a production line under Maestro Pagnin. When I did the "Shapes & Colours of Chalet Art Glass" book, I was able to include the original catalogue page for this line as Maestro Gatto had given me it. Your basket came in 10", 12" and 15" and was Chalet # 13108, 13107 and 13106. The "banana boat" shape was #12095 for a 16" and 12096 for a 13" legnth.

Your little green piece is a Lorraine Glass Industries mini - also a production piece and catalogue number "Assortment 4000". Chalet did not do "mimins" as production pieces. I have seen the base on the orange piece before and I would go with Lorraine based on the side cut marks and colour. However, I have no firm proof - it is not in the Lorraine cataolgue pages I have and I have never seen one with a sticker. Based on the blue/purple combo of the 2 tone ashtray, I would say that piece is Lorraine as that was a very common colour combo for them. I don't believe the little blue "ribbon" piece is Lorraine and I know it is not Chalet - I would say Murano. I can't really see the orange ashtray very well but looks like Chalet from what I can see. If you can post another pic of it showing the base and sides, could probably tell better.

Great finds!

Deborah

deborah

Admin




Posts

: 654


Join date

: 2010-08-19



Thanks for your help. I love the green mini and will be keeping my eye open for more.

glassisclass




Posts

: 6


Join date

: 2012-06-10



Hi again,

I love the minis too - have alot of them. They look so cool displayed with "their big brother or sister". Good luck getting more and show us when you do.

Deborah

deborah

Admin




Posts

: 654


Join date

: 2010-08-19



---
Permissions in this forum:
You
cannot
reply to topics in this forum