Hi everyone,
The lime green that EDAG uses so often inspired me to do a lime green and orange laundry/shipping room. I found some fabulous retro tile and now have a great place to display my lime green EDAG and my orange Chalet and Lorraine. Just got a small lime green bird EDAG centerpiece, have wanted one like this ever since saw one on Michel Blais' site, which works incredibly well with my huge 6 arm Lorraine stretch. You can also see a lime green "twisted tips" EDAG vase besdie a crazy signed orange Chalet vase. The 2 smaller orange pieces are a matched set of signed "Chalet Cornwall" ashtrays.
No reason ironing, laundry and shipping can't be fun!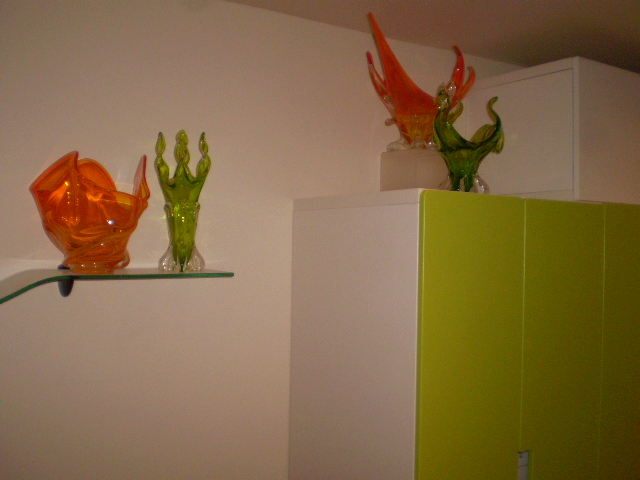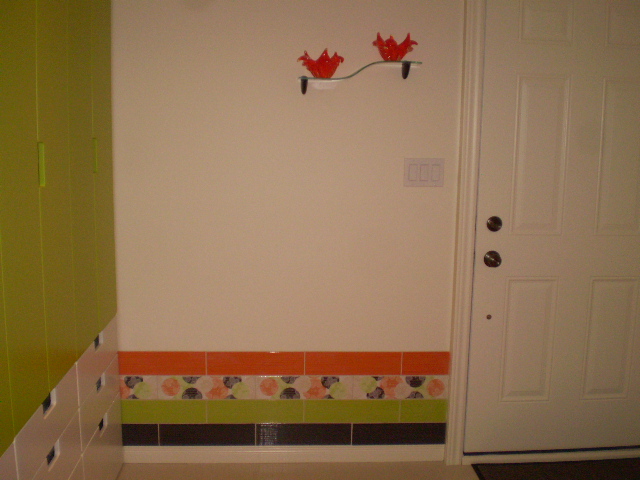 Deborah
Last edited by deborah on Fri Jan 18, 2013 7:30 pm; edited 2 times in total (Reason for editing : added a picture)

deborah

Admin




Posts

: 654


Join date

: 2010-08-19



excuse my ignorance but what is EDAG?

glassceramics




Posts

: 57


Join date

: 2012-08-06



Hi there,

EDAG is another Montreal Italian Canadian glasshouse from the same era as Chalet. You can find some info on them on the main site under "Similar yet Different" - as well as some info on Lorraine, Rossi, Mosaic etc. I can't put all the info on the main site as the pages are then impossible to load just because of sheer volume. All the glasshouses are covered in much more detail in the revised edition of the "Chalet Marks, Labels and Product Lines" book. There is quite a long chapter re Chalet's competition as well as a pictorial "Similar yet Different" quiz - 35 different groupings of Chalet pieces contrasted with Lorraine, EDAG, Rossi, Mosaic, Murano and Canada Art pieces. There is another separate chapter on "Canada Art" marked pieces. I included info on what "is not Chalet" to help people identify unmarked Chalet pieces and to illustrate the different glass houses.

EDAG pieces are gorgeous and most often misidentified as "Chalet".

Deborah

deborah

Admin




Posts

: 654


Join date

: 2010-08-19



Nice colour combination, Deb. I love the two big orange pieces! The bird is nice too (never been a fan of that type of centre piece, but they're starting to grow on me).

Pierre

Pierre-D




Posts

: 55


Join date

: 2012-08-01



Hey Pierre,

I have to confess - lusting after that bird (the style and colour I think) was a shameful secretLOL Glassman had a good laugh! I am not usually a fan of them either but I am starting to like EDAG's birds as they are smaller, the tail is usually so curled and cool and their colours are so vibrant. But one is enough! If I lust after another - will really have to look at the reasons. The lead from the glass or something..............

Deborah



deborah

Admin




Posts

: 654


Join date

: 2010-08-19



Do you think this is EDAG? It never occurred to me to show it to you before. We got it a long time ago, before we even started collecting art glass. For the longest time, we were using it as a fruit bowl! It's almost 12 inches in diameter. Unfortunately, it has lots of scratches on the base (which you can't see in the picture).
[img]
[/img]
[img]

[/img]

Pierre-D




Posts

: 55


Join date

: 2012-08-01



Hi again Pierre,
My first impression is that it's Lorraine but am not totally sure as can't see the base. Can you post a pic of it? Know it's not Chalet as the artists told me that for some reason Sergio couldn't get/want(?) that glorious lime green to work in the heavy leaded pieces so you only see Chalet pieces in that vibrant lime in the small moulded glass pieces. That is a really nice piece. The size doesn't come across in your pictures - good thing I didn't see it but my purse isn't that big. I loveeeeeeeeeeee that colour! Was disappointed when I learned those EDAG twisted tips (I have a small stretch in lime too) in that lime weren't Chalet. I put mine away until I got my laundry room but never got rid of them. Also have that EDAG twisted tip stretch centerpiece in amber and red as well as the lime green. Have seen it in orange too but don't like it for some reason.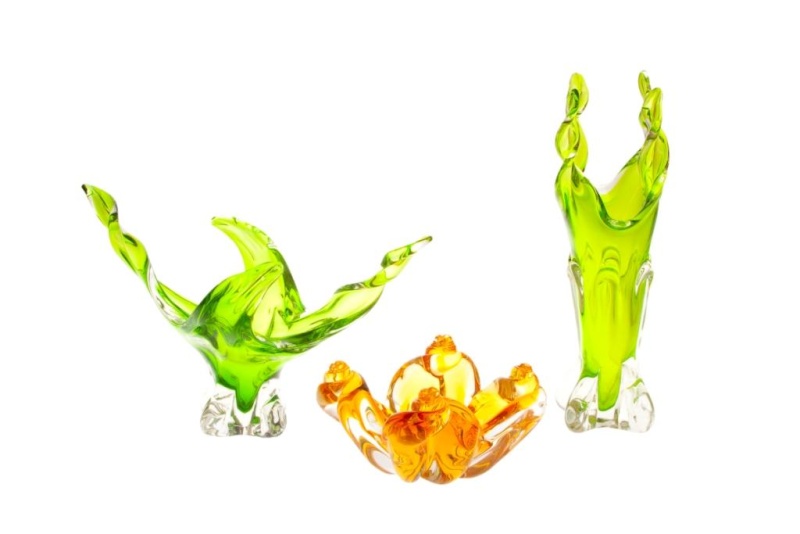 Deborah

deborah

Admin




Posts

: 654


Join date

: 2010-08-19



Hi Deb,
Here's the base of the bowl.
[img]
[/img]

Pierre-D




Posts

: 55


Join date

: 2012-08-01



Hi again Pierre,

Based on the base - still going with Lorraine. Gorgeous dish. When I do my next session with my photographer, I am going to get him to redo the shots I have of my personal collection in the house displays. The laundry room with these pieces has never been shot so looking forward to that. I have quite a few lime green ones now and would like to post them. I think I have a big lime green Lorraine ashtray too but it isn't as wide as yours. I couldn't use it as a bowl. It is a great colour but not that great of a piece - very clunky.

Deborah

deborah

Admin




Posts

: 654


Join date

: 2010-08-19



Hi Pierre,
I think I have the same piece - except mine is in red/orange, unmarked. Same dimensions. It basically looked like a bigger version of a Chalet ashtray. I have always wondered what make it was. I agree with Deborah, I think it might be Lorraine. I'll try to remember to get a picture when I get home.





chaletcollector




Posts

: 49


Join date

: 2012-04-18




Similar topics
---
Permissions in this forum:
You
cannot
reply to topics in this forum