i just obtained this clear and amber peach. it is marked chalet on one flat surface and has a second flat surface to display it in a different way. it has gold flecks in the leaf and stem. it is about 5 inches tall and 5 inches wide it is very heavy.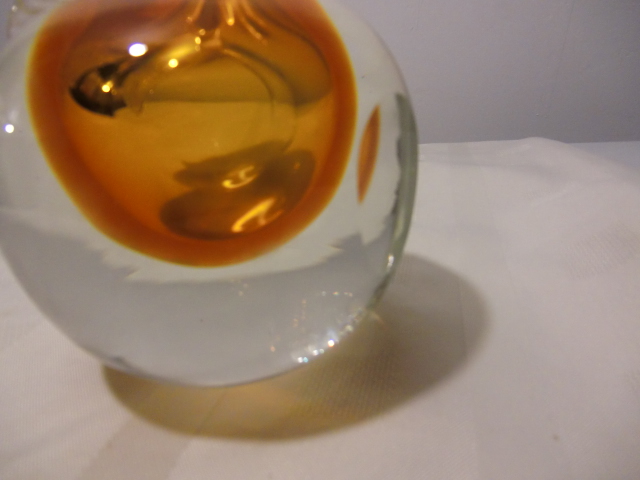 ge_preview.php?i=129&u=17731593]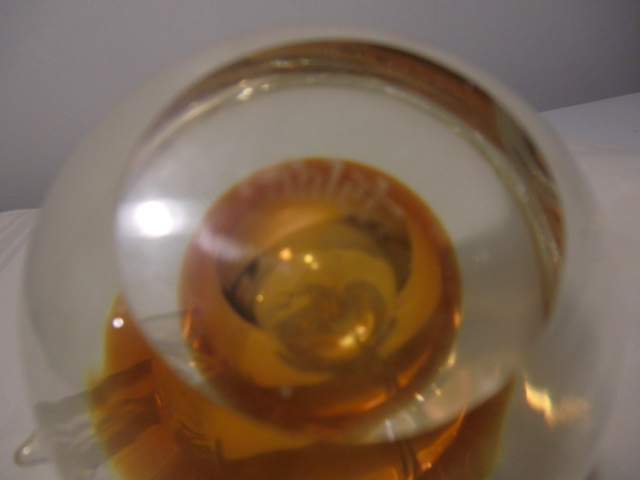 [/url]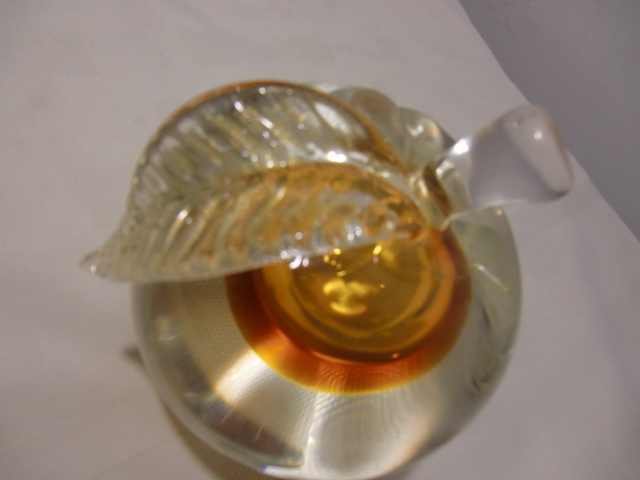 about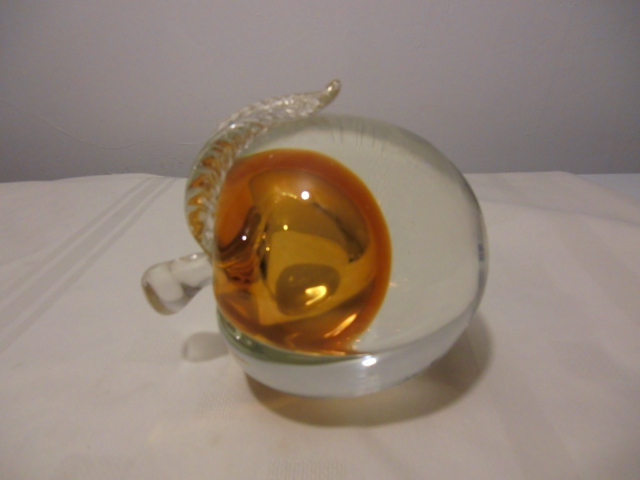 Last edited by glassceramics on Sat Jan 12, 2013 8:04 pm; edited 1 time in total (Reason for editing : picture was inserted into descriptive text)

glassceramics




Posts

: 57


Join date

: 2012-08-06



I really like the Chalet fruits - they are deceivingly heavy. I have a blue peach/apple with gold flecks in the stem and leaf as well. Wasn't sure if it was standard to have that feature or not. I'd like to find a pear next


chaletcollector




Posts

: 49


Join date

: 2012-04-18



Hi guys,

I am with you re loving the fruits and yeah - they are so heavy. The stems of the apples and pears are "avventuria" (have gold or silver inclusions). Chalet also made a few animals like this and a few ashtrays.

I got my set the opposite way - first the pear and then the apple. I also have a Chalet banana and lemon. I have never seen the orange. Before I knew Chalet did a variety of fruit, I passed up a whole "bunch" in Cornwall even though the seller assured me they were Chalet - didn't even really look at them. Probably would have been an orange as there were alot of them. A few days later I got the catalogue pages with them in it but they had been sold. I think my most wished for "Chalet do-over".

Deborah
Last edited by deborah on Sat Jan 12, 2013 11:33 pm; edited 1 time in total (Reason for editing : spelling mistakes)

deborah

Admin




Posts

: 654


Join date

: 2010-08-19



Hey again glassceramics,

I just relooked at your pictures - have never seen a piece of Chalet fruit with 2 flat sides. I think you have something very rare. Very derivative of Murano as they were used as bookends with the flat surfaces pressed against the books they were supporting. Super find!!!!!!!!!!!!!!

Deborah

deborah

Admin




Posts

: 654


Join date

: 2010-08-19



I have one on my flickr page just like that. But it has green
And only one flat side.

Glassman




Posts

: 303


Join date

: 2010-08-20



Nice find. I also picked up a set of Chalet fruit last year(pear,peach) they have the 2 flat sides also. I just checked and they also have the gold flakes in the leaves. I'll have to keep an eye out for the banana and lemon now.

Thumper




Posts

: 73


Join date

: 2010-11-08



Hi guys,

I think maybe this has solved a question I have had - the catalogue page I have with the fruit is a copy of microfiche from a museum in the US. Some images are clear, some spotty and some aren't there. There are 2 numbers for the apple and I always wondered why - thought maybe size. Since you guys have found these 2 sided - probably 2 styles.

Thumper - pictures of the banana and lemon are in the book. I doubt if stickers would have stayed on them very long given their surfaces. But you have really good luck with finding crazy pieces so ...................

I saw a blue Sergio Pagnin basket this week as well. Did not get it as not my colours and one of the prunts was very irregular and rough. Could not tell if it was damage or made that way. Cool to see a blue one though.

Thanks!

Deborah

deborah

Admin




Posts

: 654


Join date

: 2010-08-19



---
Permissions in this forum:
You
cannot
reply to topics in this forum