Hi everyone,
Finally - the book is ready. To add to the delays, the printer had problems with his equipment. I am sooooooooooo glad it is done and delivered. Never againLOL. Anyways:
The updated and revised 2012 edition of the "Chalet Marks, Labels & Product Lines" focuses on the branding, distribution and identification of Chalet's products. It is a 98 page, soft cover and perfect-bound book. It has over 250 professionally shot photos of hundreds of different pieces of Chalet (all signed, stickered or with hang tags) PLUS historical pictures from newspaper articles, newspaper archives and the 2010 Chalet retrospective. Chapters cover Chalet's history, the artistry, an 11 page chapter covers the etchings, labels and hang tags used only by Chalet (10) while others detail Chalet inventory stickers, Chalet mismarks, non-production, artists' samples and seconds, "Canada Art" pieces, independent boutique markings, generic "Made in Canada" labels, 22 pages cover the 5 distributors used by Chalet with all their different lines and markings, a 14 page chapter addresses the "Similar yet Different" glasshouses of that era (Lorraine, EDAG, Altaglass, Rossi Artistic Glass, Mosaic Artistic Glass) and there are 35 groupings of product to identify. Finally, the book includes original advertising and pricing provided by Chalet Maestri Gatto and Guarnieri. As well as a Table of Contents, the book has an Index for easy reference.
Thanks to all the forum members that gave me suggestions and loaned me pictures of pieces that helped fill in the blanks and provided further insight into Chalet's marketing. I appreciate it very much. Hope you enjoy it! Please see the "Shop" listings for ordering. Many of the pieces in the book are available for purchase and have never been listed or shown on the site - I was saving them for the book launch. So please check out all the new pieces. I would also like to stress that all the photos in this book were shot for this book - they are not a rehash of those found in "The Shapes & Colours" book. The 2 work together to cover the shapes, colours, branding and distribution. The only info that is duplicated is that of the history and artistry - although the pictures in these sections in both books are different. If you have any questions, don't hesitate to contact me directly.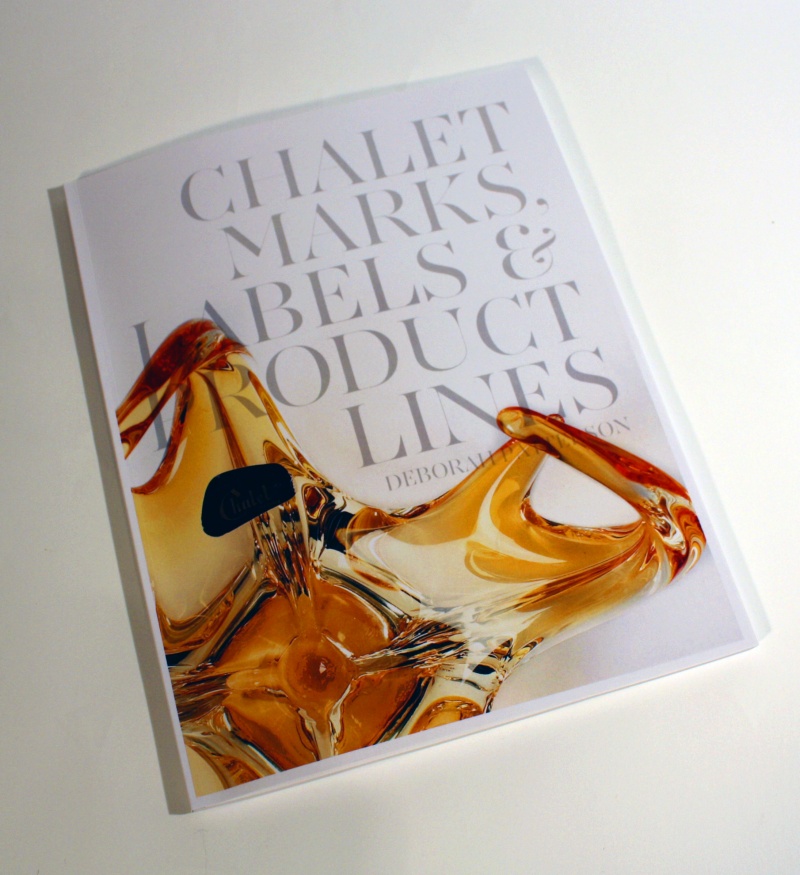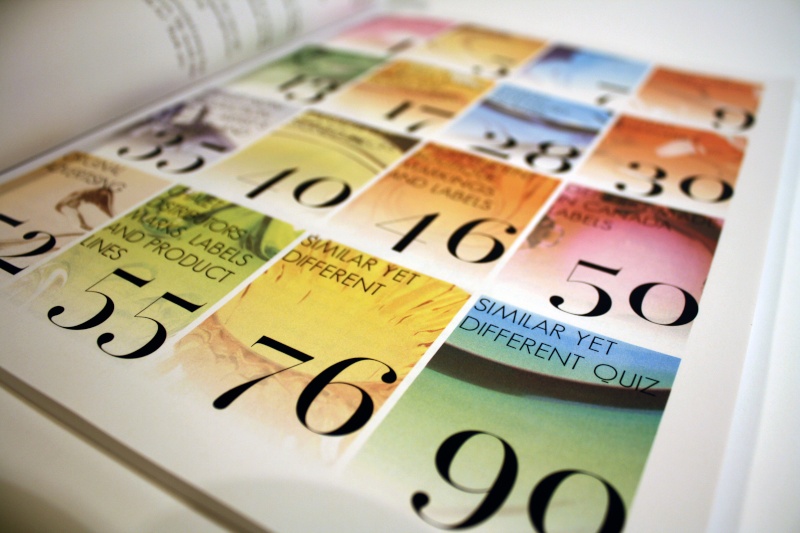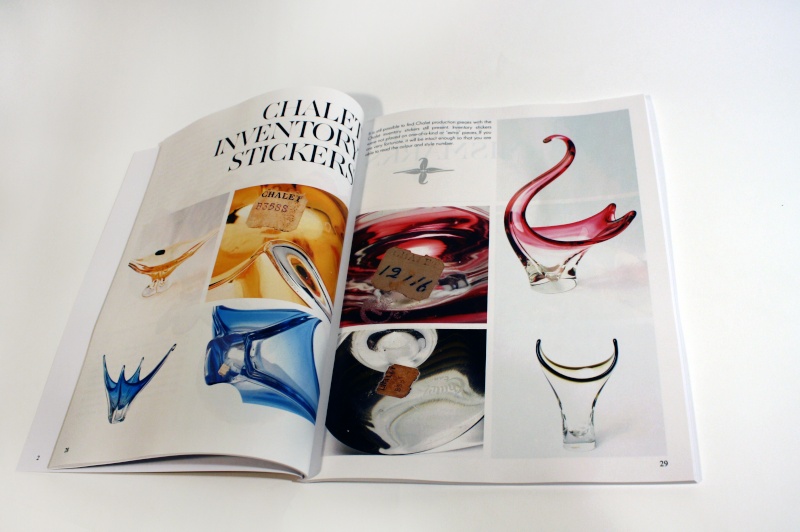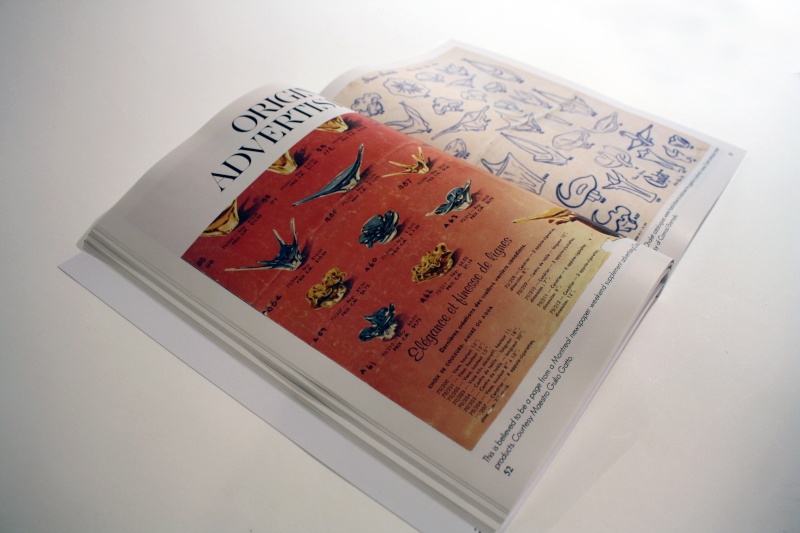 Deborah
Last edited by deborah on Sun Oct 07, 2012 10:00 am; edited 2 times in total (Reason for editing : added some info)

deborah

Admin




Posts

: 654


Join date

: 2010-08-19



You can finally get some down time in. Sit back for a few days and just veg out.
Bob

Thumper




Posts

: 73


Join date

: 2010-11-08



Hey Bob,

I am looking forward to you getting your copy - specifically to see how you feel about my theory re "Canada Art" as your big amber stretch played quite an importantt link in the chain of my reasoning. Will make for some interesting forum discussions.

Deborah

Last edited by deborah on Wed Oct 10, 2012 2:55 pm; edited 1 time in total (Reason for editing : spelling errors)

deborah

Admin




Posts

: 654


Join date

: 2010-08-19



BOB, run a black light over ur CANADA ART amber stretch i have one aswell and it glows!!!
Hi guys,

The fact that Canada Art appears to have used uranium - just more proof of my theory. Pleased to hear it! Will be really interested to hear if you agree with my reasoning or not.

Deborah

deborah

Admin




Posts

: 654


Join date

: 2010-08-19



Hello Deborah,

I received my copy of the updated refence work today and it was worth courier charges. My wife was thrilled with the gift and we both find it hard to say which book we are enjoying the most. Given your post regarding Canada Art, I read that section first and my opinion is that you are onto something. I found the piece that was etched Chalet Canada to be the most convincing argument for your theory. It is undeniably a Chalet piece.

I also enjoyed the information on EDAG and have started looking through the quiz groupings.

Well done - the photography in particular surpassed my expectations. The number and quality of photographs is first rate. I see a number of pieces from collectors here on the forum and also find that gives this book special weight.

Will

treckers




Posts

: 15


Join date

: 2011-07-13



Hi Will,

Thanks for letting me know you like the book - sure got there fast! I am particularly pleased to see you are not discounting my thoughts re "Canada Art" and in fact share them. That marked piece was an amazing find - I do not as a rule collect blue but that piece is staying put!

When you are finished going through the book - let me know how you feel about it overall. Also interested in how you did on the "Quiz"LOL.

Deborah

deborah

Admin




Posts

: 654


Join date

: 2010-08-19



hi deborah,

Got the new book - have gone through really fast and now taking my time. It is great!!!!!!!!!!!!!!!!!!! I finally understand about Giovanni and am looking at all the stuff about Canada Art. I have never found one of those but have heard about them here so find it very interesting.

I like that there are pictures from members here - makes it more personal.

So far I am failing the quiz:( I still think EDAG pieces are either Chalet or Lorraine.

Annie

AnnieB




Posts

: 15


Join date

: 2011-07-14



---
Permissions in this forum:
You
cannot
reply to topics in this forum