Hi everyone,
Just realized that I have should have posted this one too when I posted re that huge fazoletto vase. This is another Chalet "monster" - this bowl is one of the largest pieces of Chalet I have ever seen. I have had an amber swirl with the same diameter but not quite as heavy although a bit higher due to the style.
Diameter 14 inches, height 5 inches and weight 12 lbs 4 oz. I got it in Cornwall. Amazing piece- it is in the book and was an exhibit piece but I didn't have all the Chalet fruit that you will see pictured in the second pic for the exhibit.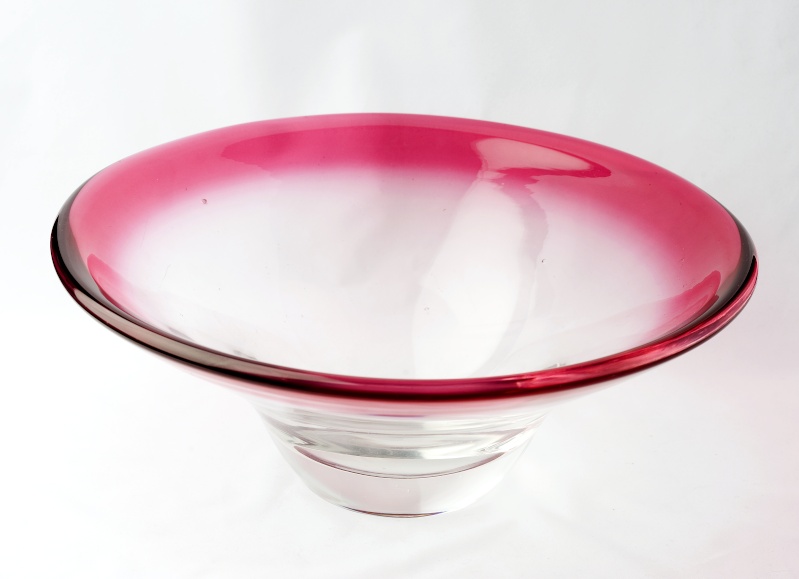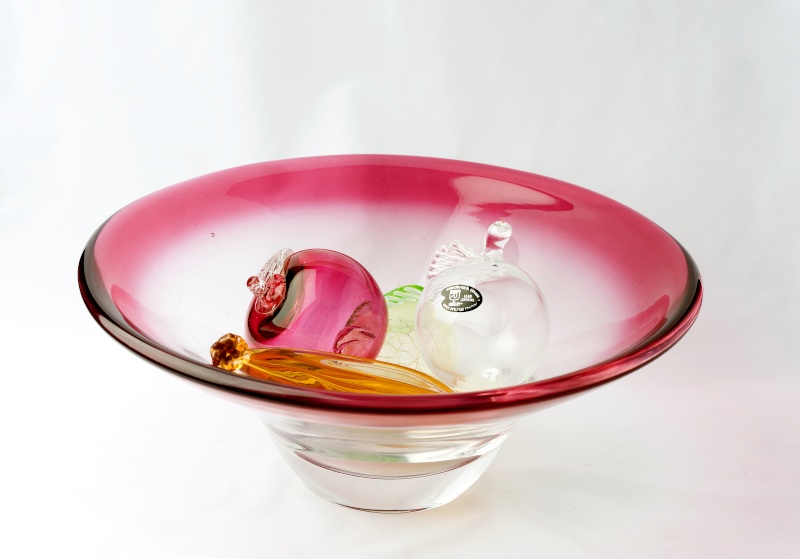 Deborah

deborah

Admin




Posts

: 654


Join date

: 2010-08-19



Are the fruit pieces Chalet? Labeled or Acid engraved?

Robin T




Posts

: 3


Join date

: 2011-08-14



Hi Robin,

The mouth blown crystal apple still has the Riekes Chalet label, the others do not have their markings anymore - Maestro Gatto gave them to me. The large apple and pear sets with the smooth bottoms were signed (I have a set and they are also stickered) but the other fruit pieces were never etched - only stickered. But I can tell you the catalogue numbers for them and it is very Chalet as is totally inconsistent with their other numbering. The sommerso apple and pear sets were #540 while a pear (?can't tell from pic how is different from one in the set), the orange (never seen one), the banana, the cranberry apples (2 styles) and the lemon were given catalogue number #544. The crystal apple was only made for Riekes.

The banana was a smooth but grooved amber sommerso while the suface of both the orange and lemon were" a ghiaccio". The crystal apple is the only marked apple I have ever found - I know the cranberry one is a Chalet not a Rossi as I have the catalogue pages and 2 marked Rossi apples that I bought for comparison.

Before I had the catalogue and before Maestro Gatto gave me the fruit - I passed over a number of fruit IN CORNWALL that I was told was Chalet - I will never know if it was or wasn't as when I went back to get another look, they were gone.

The mushrooms are starting to surface and the cranberry apples plentiful enough but not the others.

Deborah



deborah

Admin




Posts

: 654


Join date

: 2010-08-19




Similar topics
---
Permissions in this forum:
You
cannot
reply to topics in this forum